Redeemer will "ring the bell" again this year to help The Salvation Army meet the needs of those in our community. We're calling on all parishioners to sign up for bell-ringing shifts as part of this Red Kettle Campaign.
We're ringing the bell from November 26 to December 24 outside the Publix at Beneva and Fruitville (501 N. Beneva Road in Sarasota).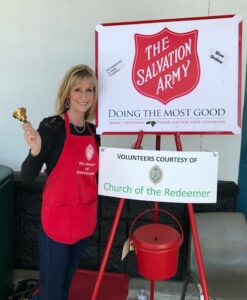 When you volunteer to ring the bell, you help improve and even save lives. The money dropped in a red kettle goes right back into your local community. By volunteering even just two hours of your time, you can raise enough money to feed a family of four for an entire week.
Plus, this year, there's a new way to donate to The Salvation Army's annual Red Kettle Campaign. Donors can now contribute with the tap of their smartphone! Whether people don't carry cash or just want to give in a way that is contact-free, they can use Kettle Pay to donate safely and securely at the red kettles. The Salvation Army has put near-field communication (or "NFC") stickers on all of the iconic red kettles across the area. The stickers contain microchips that allow users to make a donation securely via Apple Pay or Google Pay as they tap their phone against the tag. The technology is compatible with iPhone X and newer models and most Android phones. For other devices, people can scan the QR code on the red kettle sign. Donations will go to our The Salvation Army corps community center.
As per Salvation Army guidelines, all bell ringers must wear a mask while volunteering. Masks will be supplied.
For more information, please contact our 2021 Bell Ringing Coordinator Sharon Coleman at SColemom@Gmail.com.