Thursday, September 29, 2022
Dear Redeemer Family,
Our Savior never promised that life would be easy. In fact He promised that each of His followers would carry a cross. Many in our region are carrying heavy crosses today. It is the Church's bounden duty to pray and care for those who are in any way weary. Soon we will announce tangible and spiritual ways that those of us who are able can assist those who are hurt or unable. The love of Christ compels us because we are all part of the Body of Christ.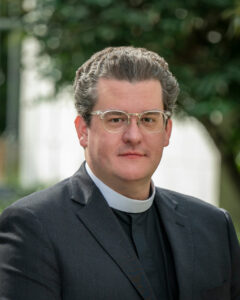 The first time Redeemer's campus doors will open is when we gather as a parish for mass at 5:30 p.m. on Saturday; 7:30 a.m., 9 a.m., and 11 a.m. on Sunday; and 1 p.m. on Sunday in Spanish. Our focus on Saturday evening and Sunday will be on worship and prayer. No other activities will take place on Saturday and Sunday, including the Golf Tournament, the Sharing Our Faith talk with Kalista & Fr. David Svihel, and the Blessing of the Animals, which have been postponed. We will resume weekday mass and weekday activities when it is appropriate.
The parish property sustained some minor damage, including some limbs that fell on the roof above the kitchen and Gillespie Hall. A full assessment will be made and plans for repairs will be forthcoming.
If you would like to assist in removing light debris from sidewalks and walkways so we can worship safely as a parish family this Saturday and Sunday, please contact Junior Warden Brigham Clegg at 941-376-8856 for more information.
If you have experienced emotional and mental distress, please reach out to our partners at Samaritan Counseling Services by emailing Laura Johnston at Laura@SamaritanGulfCoast.com or by calling Samaritan at 941-926-2959.
Your priests are also here to provide spiritual support. Please do reach out. In the event of a health emergency, always call 911 first. For pastoral emergencies, please call 941-955-4263 to reach the clergy.
As we move from preparing for a storm to recovery from a storm, the emotions change. You may find yourself crying or angry, or you may find yourself restless, wanting to help but feeling nevertheless quite vulnerable. Even confusion and generalized anxiety are common things after a stressful event. Rather than pretending all is well and putting on a fake smile and stiff upper lip, we are all invited to cast our cares and concerns on the One who alone can bring order from chaos and turn darkness into light, Jesus Christ our Lord.
Your servant,
Fr. Charleston Wilson
Rector, Church of the Redeemer
Please Note:
The Redeemer campus will be closed for regular activities tomorrow (Friday). It will reopen for mass on Saturday at 5:30 p.m. and for masses on Sunday at 7:30 a.m., 9 a.m., 11 a.m., and 1 p.m.
The Golf Tournament has been postponed.
There is no High School Youth Group this Sunday.
Middle School Youth Group will be held this Wednesday. The parent meeting has been postponed.
The Blessing of the Animals has been postponed.