From the Senior Warden On Behalf of the Vestry
"This is the day that the Lord has made;
let us rejoice and be glad in it" (Psalm 118:24).
Dear Redeemer Family,
After many months of discernment and following the protocols and procedures of the Diocese of Southwest Florida, which included a nationwide search, your Vestry is thrilled to announce our next rector. Our rector was unanimously selected, along with the blessing and support of Bishop Dabney Smith.
We have called Father Charleston Wilson as the next rector of Church of the Redeemer. We look forward to a full and bright future together with the Wilson family, "making new Christians and all Christians new," as Fr. Charleston likes to say!
God bless you.
Sincerely,
Janet Trefry
Senior Warden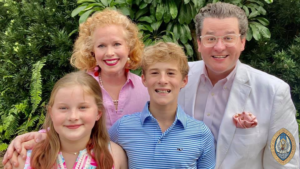 Click the photo to watch the announcement made during the 9 AM Mass on Sunday!