A Message from the Rector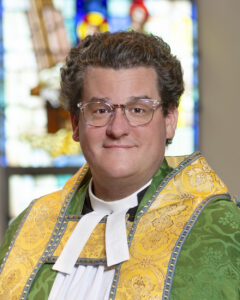 "The Lord appointed seventy-two others and sent them on ahead of him, two by two, into every town and place where he himself was about to go." (St. Luke 10:1)
Dear Redeemer Family:
Father Chris and I have been working together since 2016, when he returned to Redeemer from seminary, was ordained, and became Priest Associate under Fr. Fred while I was serving as Fr. Fred's Priest Associate for Evangelism and Development. Since that time, Fr. Chris and I have worked together in literally every aspect of parish ministry – right through a pandemic no less – as partners in the Gospel under varying titles and circumstances.
The unique and steady partnership the two of us developed when Fr. Fred retired has thrived and grown deeper. Even when we were without a rector, and Fr. Chris and I worked with the Senior Warden, we flourished together, believing our work was to focus on what is now the parish tagline: "Making new Christians and making all Christians new."
To those of us who know him, it should come as no surprise that the time has come when another parish wants Fr. Chris to serve as their rector. Fr. Chris and his family have discerned it is God's will that he become the next Rector of St. John's Episcopal Church in Tampa, Florida.
Fr. Chris will take up his duties in the early part of 2022, so there will be plenty of time to say our congratulations and best wishes. His last day at Redeemer will be the Feast of the Holy Name on January 1, 2022, when he will preach and celebrate. Make plans now to be present.
Fr. Chris is the greatest partner in ministry one could ever have. I love Fr. Chris and his family with all my heart. Malacy and I will miss them terribly.
Yes, there will be tears and sorrow, but the deeper story here is God's grace and goodness – that He loaned Fr. Chris and his family to us for these wonderful years of growth! I am glad Fr. Chris will remain in our diocese.
I have already begun an international search for the next Senior Assistant Rector of Church of the Redeemer. I do not know who that person is, but God does. Our work now is to trust once again the God of our salvation who is always willing to do "infinitely more than we can ask or even imagine" (Ephesians 3:20).
With a heavy but grateful heart, I remain:
Your servant,
The Rev. Charleston D. Wilson
Rector, Church of the Redeemer
A Message from the Assistant Rector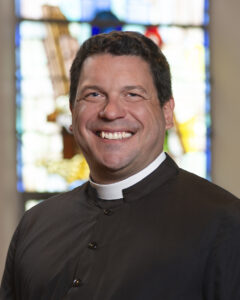 "I thank my God in all my remembrance of you, always in every prayer of mine for you all making my prayer with joy, because of your partnership in the gospel from the first day until now. And I am sure of this, that he who began a good work in you will bring it to completion at the day of Jesus Christ." (Philippians 1:3-6)
Could there be a more appropriate verse of scripture for this occasion? On January 11th, 2009, Church of the Redeemer adopted a young married couple moving down from New York to work with youth. It has been an incredible thirteen years. What Kate and I have gained in our relationship with Redeemer cannot be measured; the love, support, and prayers of this congregation have sustained us.
Through a long discernment process, many prayers, and the guidance of the Holy Spirit, the vestry of St. John's Episcopal Church in Tampa has called me to be their next rector. Kate and I believe this is the work of the Spirit, so I have accepted their call to serve in this new way. I accept this call not because I want to leave Redeemer but to be obedient to Jesus. I will always love Church of the Redeemer.
I am very excited to begin a new chapter in my family's life and in the life of St. John's. I am excited to see what God has in store for His church in Tampa. I am excited to meet the people of St. John's and continue the mission I have always had in ministry, grow the church, and make more citizens of God's kingdom.
I am thankful for all the priests I have had the opportunity to work with at Redeemer. Fr. Robinson was and is the greatest mentor any priest could have. Fr. Marsden taught me the importance of obedience to God and to the call of the Holy Spirit. Fr. Wilson is and will always be one of my very best friends. The partnership Fr. Charleston and I have shared in ministry at Redeemer is truly that of an odd couple. Who would have ever thought a kid from Queens and a guy from Linden, Alabama, would make such a dynamic duo! I cherish all God has accomplished through us. I look forward to partnering with Fr. Wilson in new ways, as we will both be rectors in the Diocese of Southwest Florida.
Keep up the great work, Redeemer! I love you, and you will forever be in my prayers.
Faithfully,
The Rev. Christian M. Wood
Assistant Rector, Church of the Redeemer